Headlines on The Drudge Report as 2016 comes to a close: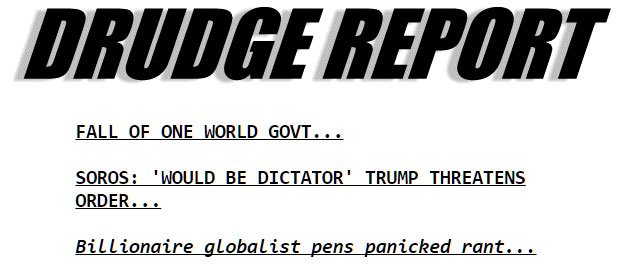 Putin's growing power and Trump's extraordinary US Election victory are both herald's [sic] of a growing movement against the established world governments. Anti-establishment parties raging against the political class could sweep to victory in a swathes of elections next year and change the face of the West. From Germany, to France, to the Netherlands – fringe and extremist parties are gaining momentum hand over fist and looked primed to seize power. Notable victories have already been won – with a shocking referendum win in Italy causing Prime Minister Matteo Renzi to resign in a move said to pave the way for the collapse of the EU.
Just a reminder that words like "fringe," "extremist," "alt right" and "far right" suddenly appearing ad nauseam since the Nov. 8 election, are establishment media code words for what were considered before the election to be center to right of center policies and people; in other words, anything that defies politically correct or left- leaning biases.
In an article for Project Syndicate, Soros begins by mentioning how he lived under both Nazi and then Soviet rule in Hungary before asserting that "various forms of closed societies – from fascist dictatorships to mafia states – are on the rise." This claim is confounded by the facts, which show that, "The share of the world population living in democracies (has) increased continuously." Soros writes that in voting for Trump, Americans "elected a con artist and would-be dictator as its president," and that his defeat of Hillary Clinton means America will be "unable to protect and promote democracy in the rest of the world" (because that policy worked so well in Iraq, Afghanistan, Syria and Libya). Soros also slams Trump's new cabinet as containing nothing other than "incompetent extremists" and "retired generals."

Explaining how he supports the European Union because it is a successful attempt at "social engineering," Soros laments the fact that the body has become "increasingly dysfunctional" and its disintegration has been accelerated, "first from Brexit, then from the election of Trump in the US, and on December 4 from Italian voters' rejection, by a wide margin, of constitutional reforms."
But don't take anyone else's word for it – you can read Soros' own words (just keep in mind that as a lackey for the Tenth Empire Shadow Government, most of the adjectives he uses should be taken truthfully, for the meek who will inherit the earth, to mean their exact opposite; 'hope' for 'threat' and so on – although the current fall of the Tenth Empire does indeed pose a threat to himself and the others on the top tier of the Tenth Empire:
Open Society Needs Defending: George Soros brings his personal history to bear on the threat posed by today's ascendant populists.

Open societies are in crisis, and various forms of closed societies – from fascist dictatorships to mafia states – are on the rise. Because elected leaders failed to meet voters' legitimate expectations and aspirations, electorates have become disenchanted with the prevailing versions of democracy and capitalism.
Interestingly enough, The Drudge Report was under the largest DDOS attack in its history on the evening of Thursday, Dec. 29, when Drudge's top headline read MOSCOW MOCKS OBAMA 'LAME DUCK'. Other 'free' (as in, not controlled by Tenth Empire globalists or foundations) media sites have also suffered severe DDOS attacks in an attempt to silence the outlets which are pulling back the curtain on the great and powerful Oz, Wikileaks and Twitter being just two well-known examples.
After these things, I saw another angel coming down out of the sky, having great authority. The earth was illuminated with his glory. He cried with a mighty voice, saying, "Fallen, fallen is Babylon the great, and she has become a habitation of demons, a prison of every unclean spirit, and a prison of every unclean and hateful bird! For all the nations have drunk of the wine of the wrath of her sexual immorality, the kings of the earth committed sexual immorality with her, and the merchants of the earth grew rich from the abundance of her luxury." Rev 18:1-3